Welcome, Kalishia Mitchell
Survivor Outreach Coordinator
K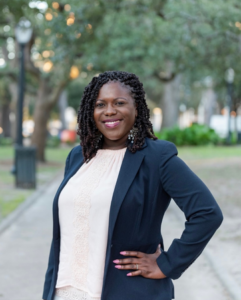 alishia Mitchell joins Brave Step focused on survivor outreach, specifically survivors in underserved and/or marginalized communities.
Kalishia is a gifted fundraiser, active board member and proud leader of KLM Consulting. Her expertise includes fundraising campaigns for nationally recognized organizations, soliciting and training volunteers, and strategic planning along with board development through the DE&I lens. 
Kalishia has nearly 15 years of experience working in the non-profit sector. She prides herself in making intentional connections to help advance the mission of her clients. From a young age, she felt a call to speak up and advocate for those who either don't have a voice or those who haven't quite found their voice. 
Kalishia was born and raised in Mobile, AL and is an alumni of The University of Alabama with a Bachelor's degree in Psychology. She enjoys all things seafood, beignets, and fun-filled weekends with her daughter, Kallie.