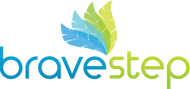 Are you interested in providing therapy services to Brave Step's clients?
Brave Step was founded in 2014 to strengthen adults impacted by sexual abuse by providing meaningful steps on their healing journey. We design personalized care plans and offer inspiration, education and connection for survivors and their loved ones.
Through online resources and personalized care, we can help survivors take the brave step toward improving quality of life and long-term health, and inspire them to educate their family and the community.
We believe that to serve this underserved audience we need the very best clinical and program care available in Charlotte. Therefore, we are interested in partnering with you in two capacities; providing group therapy and individual counseling.
If you are interested in working with Brave Step to address this great need, please review our stringent requirements that have been put in place to ensure we are providing exceptional care while building a world-class program.
Minimum Qualifications
In order to be considered as an approved therapist to whom Brave Step clients may be referred, these minimum qualifications must be met:
Licensed Mental Health Professional in good standing.
Minimum 5 years of licensed clinical experience in treating adults for sexual trauma.
Has participated in extensive specialized training and/or supervision on professionally accepted techniques most often used to treat sexual trauma, such as, but not limited to, eye movement desensitization and reprocessing, somatic experiencing, psychophysiological trauma-work, dissociation disorders, mode deactivation treatment and internal family systems. The therapist does not have to be trained in all of these modalities but should be experienced with at least one of them in addition to CBT or DBT. Documentation to support training experience required.
Passes background checks including, but not limited to, a criminal check and is in good standing with licensing boards in all states in which they have held a license.
Accepted via a vetting process, whereby two members of the Advisory Board, a clinical director or designee, if available, as well as any other person(s) selected by Brave Step will review the therapist's credentials on paper and in person to determine if they are qualified to serve Brave Step clients referred to them.
If you qualify, please contact us at info@bravestep.org for application details. Thank you.
Latest In The News
As a survivor-led organization, our secret to success is understanding firsthand what it's like and creating a place, both online and in person, where individuals are safe, understood and supported.
HRV TrainingSign up to participate in a 6 week small group Heart Rate Variability (HRV) Biofeedback Training with Carolinas Biofeedback Clinic. Biofeedback uses science to teach the art of human self-regulation. In Person: Saturdays May 15-June 19 10:15am-11:15amIf...
read more