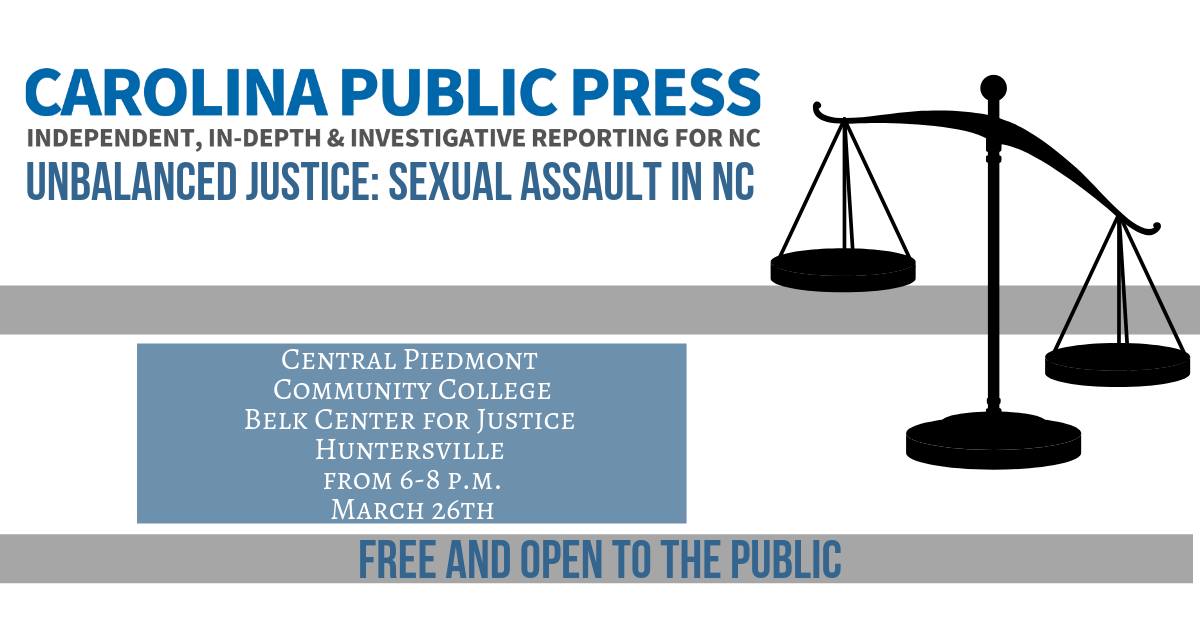 The statewide investigative news nonprofit organization, Carolina Public Press, will hold a community Newmakers forum on women's health and safety issues, with a focus on sexual assault in North Carolina, from 6-8 p.m. on Tuesday, March 26, at Central Piedmont Community College, Belk Center for Justice (CJ) – Room 131, 11920 Verhoeff Drive, in Huntersville.
The free and public forum, Unbalanced Justice: Sexual Assault in NC, will include the results a six-month long journalism project investigating the rates of sexual assault convictions in North Carolina.
The investigation, led by Carolina Public Press, is in collaboration with nine news partners in North Carolina: The Fayetteville Observer, Hickory Daily Record, NC Health News, The (Raleigh) News & Observer, (Greensboro) News & Record, Winston-Salem Journal, WLOS News 13, WRAL-TV and WUNC North Carolina Public Radio. The statewide reporting series is currently scheduled to be published in March.
In addition to discussions about the collaboration's findings, the forum will also feature conversations with community organizations, state leaders and policy makers, law enforcement and prosecutors, survivors and others about concerns about and possible solutions to reporting, investigating, prosecuting and convicting perpetrators of a sexual assault in North Carolina.
To register for FREE, please visit https://www.eventbrite.com/e/unbalanced-justice-sexual-assault-in-nc-huntersville-forum-tickets-56361565961?aff=efbeventtix&fbclid=IwAR3sS_-mqygYqJQpcqeWO-cAp4_WhTCtxno8SrL6HRGVKsZUdOPFsjb4X1g.