Brave Step Honors Changemakers with Annual Awards
On Sunday at an event celebrating
Brave Step
's eight years of fostering courage for those impacted by sexual violence,
leaders of the nonprofit honored individuals making a difference in the community with its annual Changemaker Awards.
"At Brave Step, we are compelled to lift up these individuals who audaciously advocate for others," said board president Caleb Holloway. "They understand that sexual violence is pervasive and destructive in our communities, and in response they are driving forces of positive change."
Recipients for the 2022 Changemaker Awards include:
Unsung Hero Award: Jessica Ives
Jessica Ives has advocated and supported the mission of Brave Step since 2015. She co-hosted an awareness event, competed in a high-heel running race to raise money, and rallied a dozen women to assemble care packages for local sexual assault nurse examiners.
Provider Plus Award: Katie Overcash, LCSW & RYT200
Katie Overcash is a licensed clinical social worker who embodies the ideals of a strong partnership. In addition to her work as a trauma therapist, Overcash is consistently open to or leading survivor care programming including group therapy and trauma-sensitive yoga programs. She also is an active participant in Brave Step's Provider Alliance, providing support for other clinicians and leading a yoga session.
Above and Beyond Award: Charlie Elberson
As an early believer in Brave Step, Charlie Elberson, trustee of Reemprise Fund, took a chance and funded the design and evaluation of what is now Brave Step's adult survivor care program. Following that multi-year phase, he then empowered the nonprofit to research, design, and prototype the current Loved Ones program. For his bravery, vision and unrelenting support, Brave Step honors Charlie Elberson as the 2022 Above and Beyond Award recipient.
Above and Beyond Award: Dr. Michael Yonkovig
The second Above and Beyond Award recipient is Dr. Michael Yonkovig, founding member of the advisory board. He has given eight years of service to Brave Step, helping develop and define the adult survivor care program among other responsibilities. In addition to hundreds of volunteer hours, he has used his connections to build up the provider alliance and advisory board.
Relentless Warrior Award: Jan Keny, LCMHC
The Relentless Warrior award showcases an advocate and a fighter on the issue of sexual violence. This year's recipient, Jan Keny, LCMHC, is a founding advisory board member, contributing eight years and countless hours in leadership to Brave Step. Also, she was one of the first therapists in Charlotte to focus on sexual trauma, introducing trauma-informed practices to the community. She's been a relentless warrior for this work for decades, assisting children, adolescents and adults.
In addition, Brave Step recognized Sharon Jordan as a recipient of the North Carolina Governor's Volunteer Award. The Governor's Volunteer Service Award honors the true spirit of volunteerism by recognizing individuals and groups that make a significant contribution to their community through volunteer service. Jordan joined Brave Step in 2018 and has shared her spirit at more than 40 peer groups for an estimated 55 hours. Her courage, her conviction, and her willingness to speak up makes her an unmatched volunteer.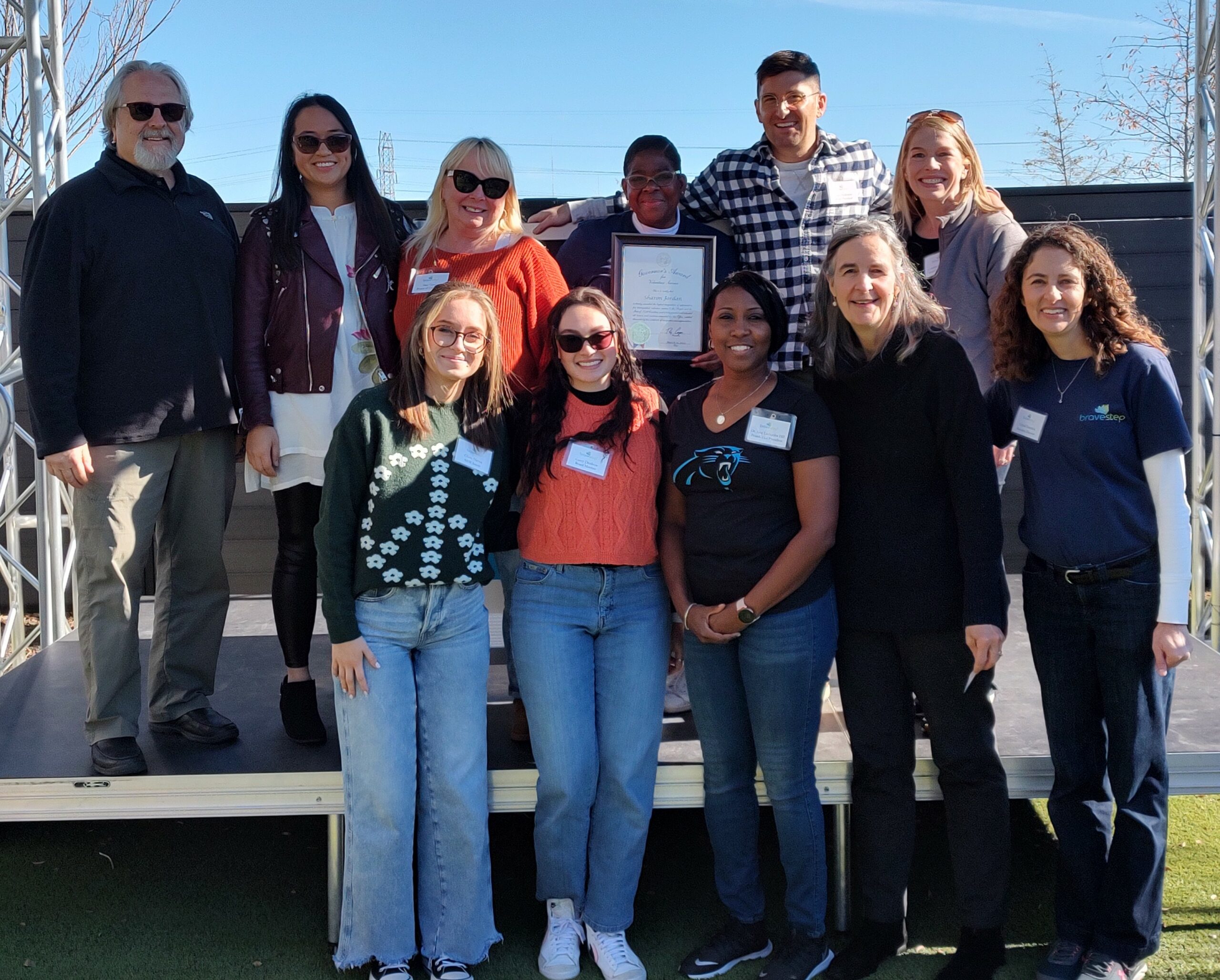 (Above) Jessica Ives is awarded the 2022 Unsung Hero Award.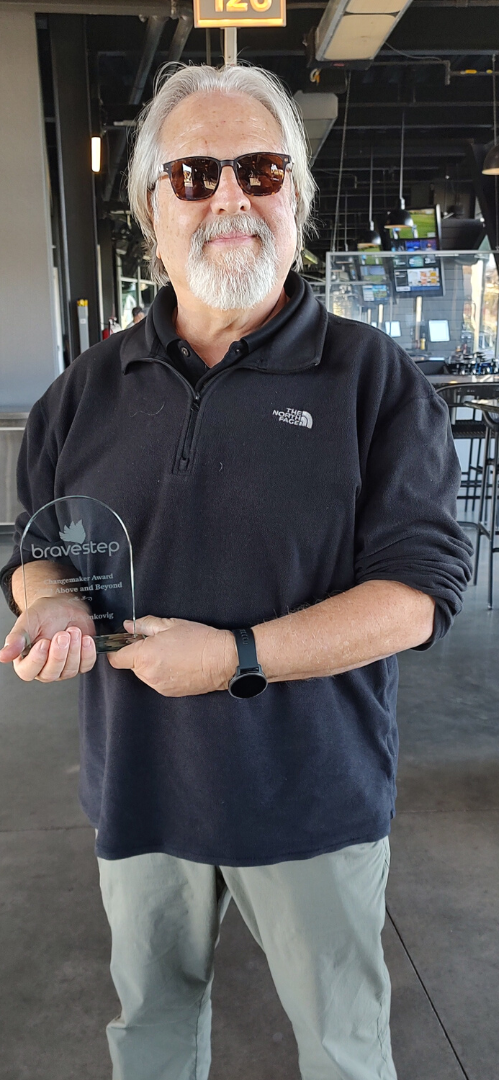 (Above) Dr. Michael Yonkovig is awarded the 2022 Above and Beyond Award.